Biking is a way of being for me. I have made several long trips. My first adventure was in sixth grade when I went from Mattoon, IL to Trilla, IL crossing several creeks and many soy bean field roads for a total of 13 miles. I had a wire basket and a ham and Mayo sandwich and a coke bottle wrapped in aluminum foil. I was imitating an article in Boy's Life about a 13 year old who crossed America by himself no less! How jealous I was.
My next big trip didn't happen until 1975 when again I read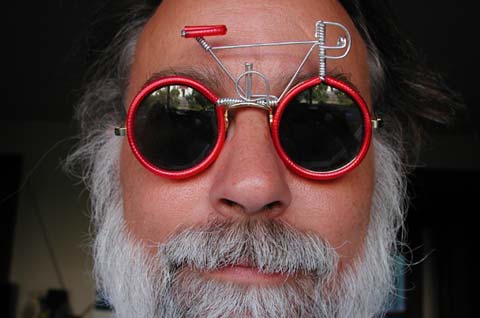 about people creating a trail across America called the Bikecentenial route for 1976. And not to be out done by them, I left New York (actually near the Palisades Parkway in New Jersey and tootled off to Illinois in 1975. When I arrived at my grandparents house who had no awareness that I was coming to Illinois by bicycle, my grandfather said, "why Jerry, are you crazy?" Then 7 years later another solo trip occurred when I road alone again from Forest Grove ,OR to Denver, CO and then flew to Cincinnati, OH and continued from Cinci to New York's George Washington Bridge in 1982. There were a number of other smaller trips of 300 or so miles here and there. And a terrific trip with Heather, the daughter, from Mount Hood to Crater Lake and Klamath Falls, OR in a summer of heat exhaustion and numerous fires extinguishing electrical lines feeding central Oregon, following our tails, and creating beautiful sunsets as the expense of life, property, and natural destruction.
So I was never quite the joiner to do group flocking rides like a moving summer camp on wheels that is popular now. I am very happy that biking is infectious and that many people are turning to it for whatever reason. Let the bikes roll is my basic belief. And let your self get acquainted with this section of the Lewis and Clark trail from Missoula , MT to Lewiston, ID in the summer of 2002. Enjoy !!!
Missoula Town Scenes