The morning greeted me with a rear flat. I pumped it up and went in to the lodge for oatmeal, an egg, and bacon. Kind of a yin/yang breakfast. Sat with Ray from the bike group who said he was disgusted with the group and "Joe" had stormed off leaving the group saying this was the end. American Joe had done this before. And only two weeks to the end. Ray had only been biking for several years and loved just going out the driveway with his bike loaded. He had a couple of sons but they didn't bike with him. They were working hard. Ray then proceeded to tell me how on his other cross country he had stopped about midway up the Mt. St. Helen's road and camped. He woke up at 330 am and couldn't get back to sleep so he decided to go ahead and bike to Johnston's Ridge Center. He got there by dawn and watched the sunrise over the St. Helen's cauldron. Ah he was celebrating his 62nd birthday this year.
I was thinking that this would be my last solo trip. I think I have been down on myself the past several years. Perhaps feeling like that permission to do was slipping away; an increase of blood pressure; changing needs, differing connections....all those things creeping in to make my being a live seemingly compromised. Being on the road is so refreshing. The big gear churning, the pace changing in response to the landscape...there is something so concrete and affirming that no step forward happens without simple effort.
And this down hill was a smooth constant 13 to 16 to sometimes 19 miles an hour down. A great whirl of chain and canyon lands and rough waters in all the senses. I had to change the tire along the motor way and could not locate the hole due to the river's sound and canyon's wind. Down to only the tube in the tire now.
Stopped at two hot springs: Jerry Johnson and Weir. First was well known and well attended. Met Rene' coming down from Johnson as I was hiking the 1.5 miles up. We agreed to meet in Lowell for supper. The pool was actual several pools of varying amount of heat.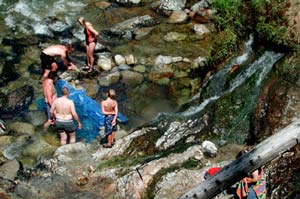 Twas odd but saw a man with a business card and well manicured hands soaking and drying in the medium tub. Couple of nude men in the lower one. About a dozen women clothed here.I just stuck my feet in. The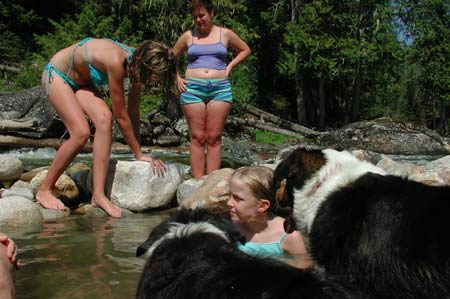 Weir springs was another 7 miles down the hill and the trail was a gnarly trail up.
I got up the mile or so hike and stripped and joined a cow poke in the pool. This pool was an outcropping overlooking a stream about 75 feet down! The cow poke told me that he liked to come up to the springs in Feb.
Kind of hard to get into the freezing cold however. I took a different route down and had to rapell a small section holding onto a rope with the stream below. I could hear the voices telling me never turn your back on the ocean as my digital camera and I swung above the stream above the slippery rocks and the rushing stream.
Running out of water (already, two gatorades and the 48 oz camelback consumed) I stopped at camp ground to pump some water. The hospitality hosts delightfully gave me some water from a safe source and filled up the 48 oz. bag after drinking about half a bag. They said it was about 97 degrees.