This is the most dangerous part of the road for me.
The shoulder is indeed non existent. On the lower left is looking back up river. It is less than my human stance to go from white line to the small descent to the river. The whoosh of trucks is felt and also gives new meaning to the Bernoulli Effect. The bike is marvelously stable and my mind and eyes and mirror tire of the constant vigilance.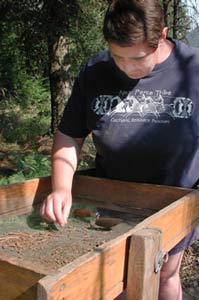 A state of Idaho archaeologist is filtering soil dug by an archaeologist technician from a 3 by 3 foot by 4 feet deep hole along the highway. The state is hoping to widen the highway for a passing lane and wider shoulders (YES!). She is not looking for historical artifacts but pre-historical ones. She hasn't decided if is an important enough site to prohibit widening.
Here, she holds a shard of translucent rock that is a shaving done by some one several thousand years ago. She found as we spoke he
her gold searching apparatus (regrets no oro-fino (fine gold) discovered on my watch. No burial grounds here. She picked this spot as it was a wide area that seemed idea for camping by prehistoric Indians.